What is Marketing Automation?
Dynamic automated conversations with your customer base
Marketing Automation combines software, data management, and communication-based content to inspire current and potential customers to take action.
Marketing Automation Services
Marketing Automation can be as simple as a dynamic email marketing plan to better communicate with your current mailing lists or a robust multi-channel marketing mix to grow your customer base. The key component in your marketing plan is to identify your current customer base while analyzing your location or locations for potential clients and markets. As with everything we offer, in order to create an effective marketing automation plan you need to have a custom and personalized approach.
Managing Automated Conversions
Lead Scoring and CRM Integration
Marketing automation is designed to drive leads and engage potential customers from multiple sources. In order to properly scale your business, marketing leads need to be scored to properly manage profitability. As your marketing partner, we will discuss in detail which lead sources are driving customers most effectively. We will also integrate lead scoring (when possible) into your CRM. Lead scoring along with an effective understanding of your consumer personas will help drive what is most important – revenue.
CRM/Email Marketing Database Audit
For most medium and small businesses, in both the B2B and B2C space, over time a CRM becomes a wasteland for old client data that has been poorly maintained and inefficiently scored. As a Marketing Automation company, before we begin creating key concepts to engage and attract new users, we will perform a full audit of your CRM to understand the potential - even in old/dead contacts. CRM audits also help us, as your marketing partners, determine your ideal client types, these types feed into our persona creation. Once your CRM has been audited, and Personas have been created, the Marketing Automation process begins to take fold.
Comprehensive Reporting
Persona Development
Persona development is more than just putting a basic likeness to a potential client group or client target. We use your existing client data to generate accurate persona data, as well as industry research to predict gaps in your consumer market. Your marketing automation plan will function as an extension of your brand and communicate flawlessly based on your potential client's position in the buying cycle.
Talk With an Expert
Sales Funnel
Funnel Actualization & CRM Integration
Your persona data and analyzation of their touch-points, interests, and conversion tendencies help create your sales or conversion funnel. Marketing Automation isn't just about sending a dry lead to a contact form. Marketing Automation entails many different marketing and messaging campaigns working as an efficient machine to drive awareness, trust, brand messaging, and brand loyalty. Consumers are more accessible now than ever, the key is to create a multi-channel marketing campaign that connects and relates to them. Marketing Automation is the machine that works for you day and night.
Talk To Us
Client Intake Form
Communication is Key
CRM Integration & Automation
CRM Integration and Automation are pivotal launch points to your automation process. Marketing Automation needs to provide a potential client appropriate dialog during the buying process, but it also needs to inform your sales team of benchmarks earned hot and cold buyers. Our integration process not only begins the conversation externally, it flawlessly integrates into your sales process.
Talk To Us
Targeted Messaging to Attract Personas
Content Creation
Marketing Automation requires a massive amount of creative content, graphics, email marketing paths, and messaging in order to fully reflect your brand, and the goals we have for each of your created personas (both existing clients and potential clients). The content creation process for Marketing Automation will create multiple journeys for targeted current and potential clients.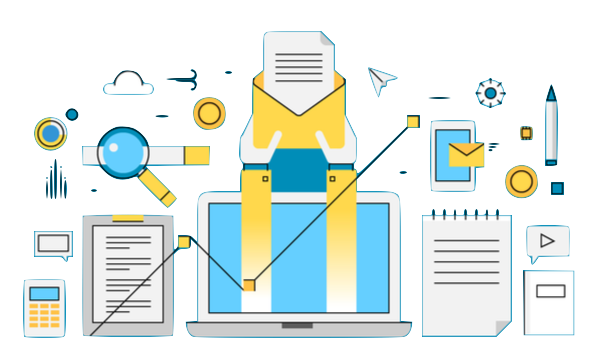 Deployment and Optimization of Marketing Automation Campaign
Marketing Automation isn't a "set it and forget it" marketing plan. While all of the data and research has been meticulously planned, real-time analysis, edits, and information garnered by on-page submissions, and input from your sales team are all required to run an efficient campaign. Your project manager will meet with you regularly to gauge user response, sales engagement, and inform you of any adjustments that are needed to further amplify your results.
Start your project
Tell us a little bit about your business